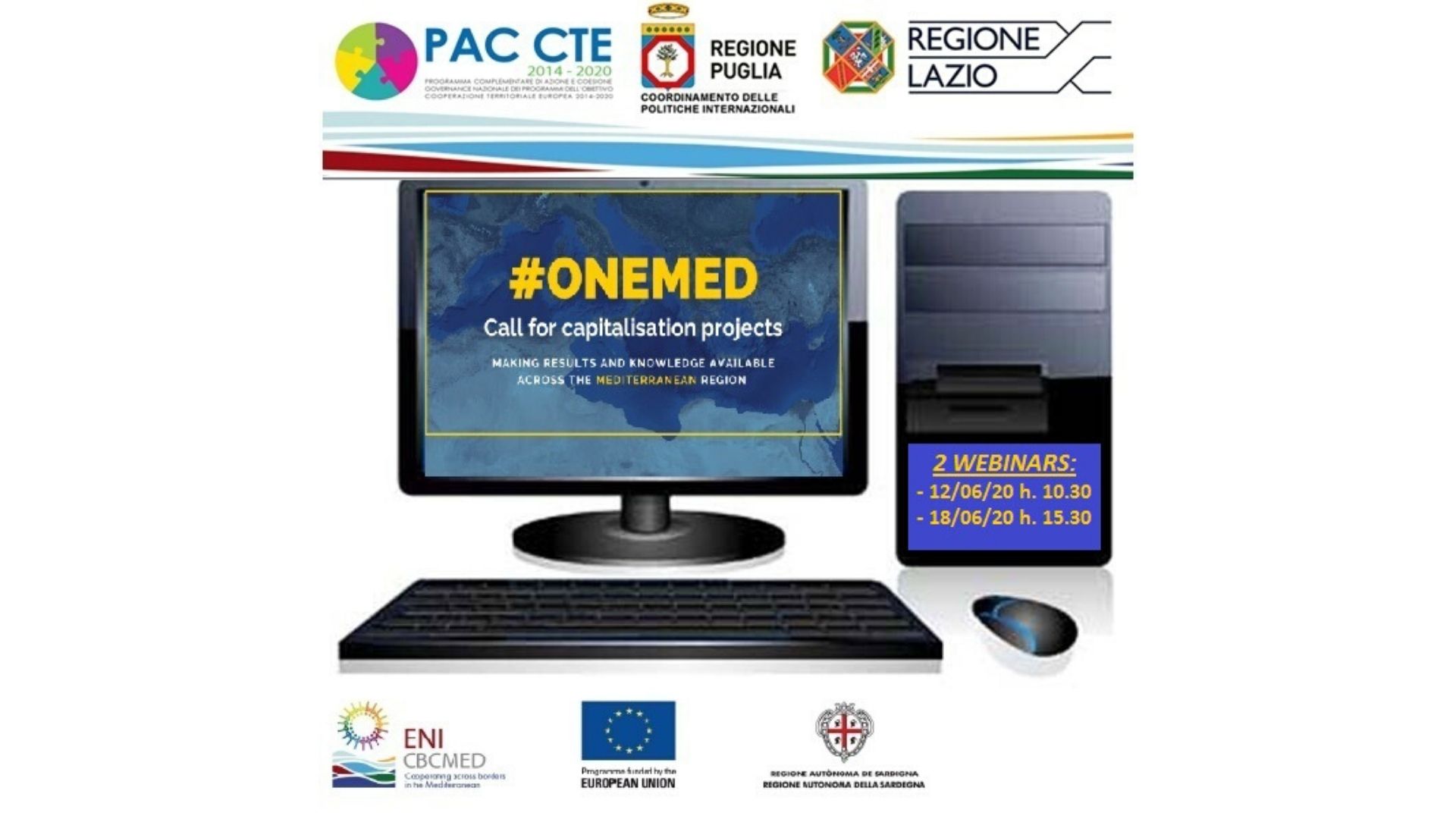 #ONEMED: COMMON project at the call for capitalisation webinar
The COMMON project will participate in the ENI CBC MED Programme 2014/20 webinar in relation to the call for capitalization projects, organised by Regione Puglia and Regione Lazio.
The webinar, which will be held on June 18 at 15.30, and regarding the "Address Common Challenges in Environment" objective, will be an opportunity to learn more about how to participate in the call, together with the staff of the Managing Authority of the broad European Neighbourhood Program; with the intervention of Luca Palazzo of the Agency for Territorial Cohesion, on the other hand, a synthesis will be made, leaving room also for elements of reflection on the capitalization strategies and on the evaluation criteria of the projects.
The aim of the meeting, on the ESP online platform "GotoWebinar", is to ensure the dissemination of the appropriate information on the call to all Applicants and partners, to allow better technical inspirations and thus support the Italian participation in the presentation of proposals.
Agenda:
Moderator: Adriana Agrimi (Regione Puglia – Coordination of International Policies, Committee Co-Chairmanship National)
INSTITUTIONAL GREETINGS
Domenico Laforgia (Regione Puglia, Director of the Coordination of International Policies, Co-President of the National Committee)
Jacopo Martino (Ministry of Foreign Affairs and International Cooperation – EU DG, Co-President of the National Committee)
Aldo Puleo (Regione Sardegna, ENI CBC MED 2014/20 Program Managing Authority)
Carmela Di Giorgio (Regione Lazio, Vice-President of the National Committee)
METHOD OF PARTICIPATION IN THE CALL FOR PROJECTS OF CAPITALIZATION
Staff MA ENI CBC MED Program 2014/20
GOOD PRACTICE PRESENTATION OF ENI MED PROJECTS 2014/20 – ENPI MED 2007/13
GENERAL OBJECTIVE: "ADDRESS COMMON CHALLENGES IN ENVIRONMENT"
Projects: NAWAMED – PROSIM – MENAWARA – CLIMATE – BEEP – MED ECOSURE – ESMES – MED DESIRE – COMMON – MESP
By the Italian project partners
CAPITALIZATION AND PROJECT ASSESSMENT CRITERIA. SYNTHESIS AND ELEMENTS OF REFLECTION
Luca Palazzo (Agency for Territorial Cohesion)