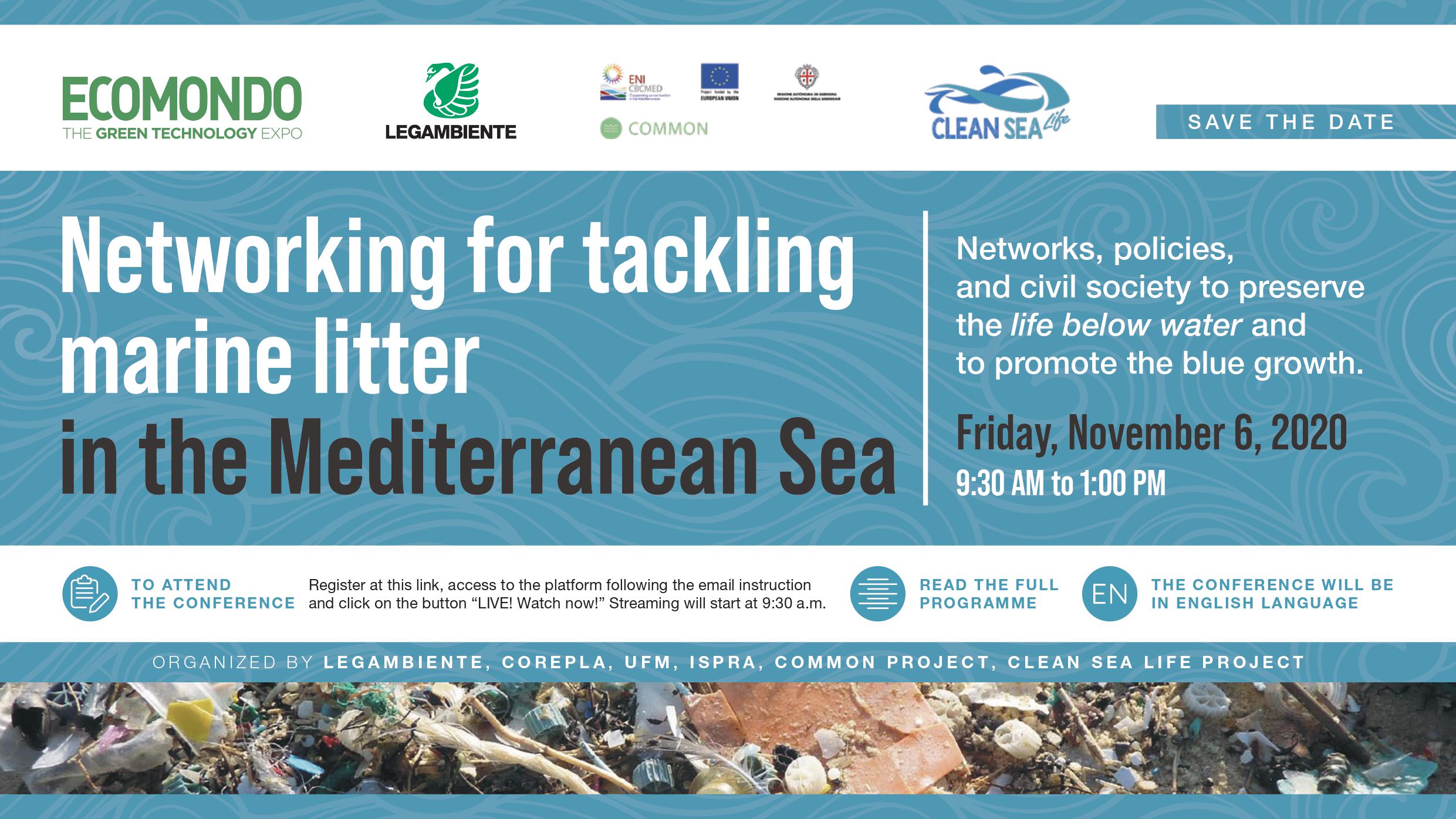 Blue Growth: the COMMON project at Ecomondo
On Friday 6 November 2020 the COMMON project participatesin the new edition of Ecomondo, the Green Technology Expo, an international fair dedicated to green issues and this year – in relation to the COVID19 emergency – remodelled in an online formula.
A calendar of about 120 events, from 3 to 15 November, available to businesses and public decision-makers to navigate the Green Deal, the impact of the pandemic, sector regulations, and supply chain cases where Italy is top seed.
Among the most important events created by the Ecomondo Scientific Committee – led by Professor Fabio Fava of the University of Bologna in collaboration with the major stakeholders in the sector – and reported by Ecomondo itself, the conference organized by Legambiente, Corepla, Union for the Mediterranean and ISPRA on the strategies implemented to free the Mediterranean from plastic waste entitled "Networking for tackling marine litter in the Mediterranean Sea", in which the COMMON project participates.
Mediterranean Sea, as the rest of the oceans worldwide, is facing the big issue represented by waste dispersed in the environment. Around 9% of the world's biodiversity is concentrated in the Mediterranean Sea, a basin of a coastline of 46,000 km, bordered by 22 countries with a coastal population that reach 450 million, and is expected to grow to 600 million by 2050. As a result of the extremely high levels of solid waste generated annually (208-760 kg/per capita/year) this area has become highly polluted. According to Unep Map, Integrated Coastal Zone Management (ICZM) can constitute one of the key instruments to improving the management of coastal areas, with special regard to waste management. To preserve the "life below water", as requested by SDG14, our economies and our survival, is necessary to act in a synergistic way. Networks, policies, and civil society should act together to face this common problem.
To follow the conference it is necessary to register on www.ecomondo.com. The conference will be broadcast on the Ecomondo Key Energy Digital Platform.
The Agenda:
Section Chairs
9:30: Introductory greetings Stefano Ciafani, President of Legambiente Fabio Fava, University of Bologna & President of the Scientic Committee of Ecomondo Anna Montini, Rimini Environment Councilor
Introduced by: Giorgio Zampetti, executive director of Legambiente
Moderated by: Francesco Ferrante, vice president of Kyoto Club
10:15: Marine litter in the Mediterranean sea: a framework of problem and impacts – Francois Galgani, IFREMER
10:30 – 11:30: Institutions UnepMAP (Gaetano Leone) Union for Mediterranean (Alessandra Sensi) European Commission (Sigi Gruber) ISPRA/EEA (Alessandro Bratti)
11:30 – 12:00 The Mediterranean Networks against marine litter: University of Siena – Plastic Busters (Cristina Fossi, Uni Siena); Legambiente – Common project (Serena Carpentieri, Legambiente); Blue med initiative (Fedra Francocci, CNR-Bluemed CSA)
12:00 – 13:00: Experiences (action and management): Tunisia – Sana Ben Ismail, INSTM – Experiences in Tunisia; Lebanon – Nahed Msayleb, Tyre Coast Nature Reserve; Thomais Vlachogianni MIO-ECSDE; Eleonora de Sabata, Clean Sea LIFE Rotary International; Franco Cecchi Italy – Corepla
Discussion and Closure